Scribd: Audiobooks & Ebooks
13.15
EBook Reader – Quench Your Thirst for Reading
If book reading is a hobby of yours and you are looking for an app that can let your read EBooks and listen to audio books then this EBook reader is a must-have for you. Scribd – Reading Subscription is a useful reading app which provides you the opportunity to read all kinds of books, articles and news pieces on your phone. The intuitive user interface and simple design and layout make it extremely easy for users to navigate the various features and options. The collection of books that is available in this reading app is quite extensive and you can find any books that you want to read with consummate ease.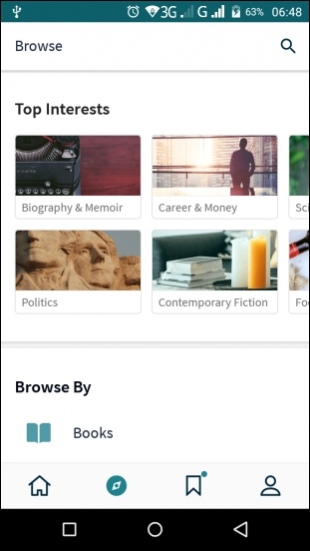 Although Scribd – Reading Subscription can be downloaded from Play Store for free, it requires you to sign up for a membership that costs $8.99 per month. Without this membership, you will have limited access to the books available on this EBook reader. There is a 30-day trial also available which can provide unlimited access to all the books for a month. However, this trial also requires you to enter your credit card details or else you won't be able to utilize it.
The free version of Scribd – Reading Subscription has a nice home screen on which the features of the app are beautifully laid out. The bottom bar of the screen is where you will find all the features that this EBook reader has to offer you. The home tab is dedicated to providing all the top new stories, a list of popular and bestselling books and recommendation of books, audio books and magazines for you. The Browse section of this app contains categories of books that you might be interested in. There is a search option available as well that offers you the chance to search for any book you want.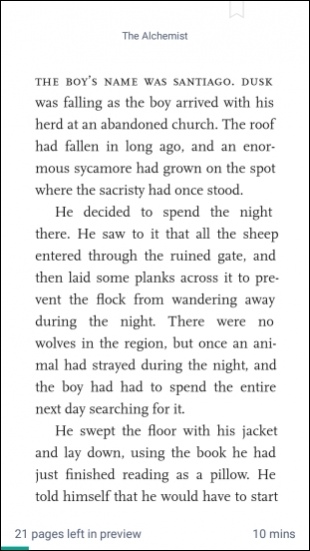 The Saved tab is where you will find all of the books, documents, articles and audio books that you have saved to read later on. The items that are stored in this section can be read even if you are not connected to the internet. The last tab on the home screen of this EBook reader is your profile. Scribd – Reading Subscription allows you to log in to the app using your Facebook or Google account. The profile tab contains any lists that you have made of books and audio books that you like. You can share these lists with your friends on Facebook.
In order to read a book on Scribd – Reading Subscription, you simply have to click on its title. The book will open and if you are a member or using the 30-day trial, you will be able to read it on your phone without encountering any trouble. However, if you are using the free version of this EBook reader then you will only be able to read a preview of the book which comprises of only a few pages. You will have the opportunity to rate the book nonetheless and also get information about it.
Features:
Intuitive user interface
Nice layout and design
Huge library of books and audio books
Books are classified into different categories
Large collection of articles and government documents
Search option for searching books
Option for connecting app with Facebook or Google
Save books for offline reading
Conclusion:
Scribd is an app for people who love reading books. It enables them to read books of various types as well as documents, articles and the latest publications of popular magazines on their Smartphones no matter where in the world they are. It can most certainly prove to be a great addition to your phone's app collection. However, it does require membership which might put off some users.
RELATED PROGRAMS
Our Recommendations
---
---
---
---